CANCELLATION AND RETURN POLICY
3-Step Easy Return Process
Post successful completion of the returns process, the order amount is credited to your account
Initiating Return
To initiate the return process of eligible products please share the following required images at support@tolexo.com

Images of Product
Please take clear & good resolution images of the product, highlighting the concerned issue in details.
Images of Inner & Outer Packaging
Please take clear & good resolution images of the inner packaging & outer packaging, this is crucial especially
in cases of damaged or missing items scenarios.
Image of Invoice
The hard copy of invoice can be found along with the delivered product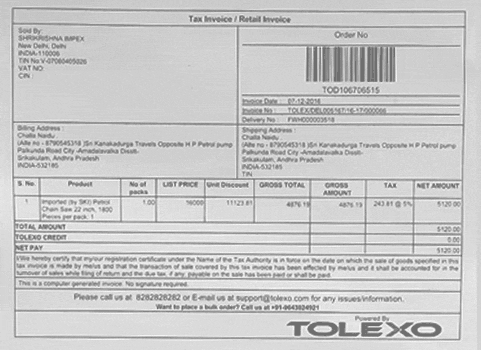 Image of Cancelled Cheque/ Passbook / Account details
Image of bank details is required only in cases of
COD/ NEFT payment modes.
*This is required for seamless refund into the bank account without any account details errors
Bank Details image should clearly mention
Account Holder's name (as per bank records)
Account Number
Bank Name
IFSC Code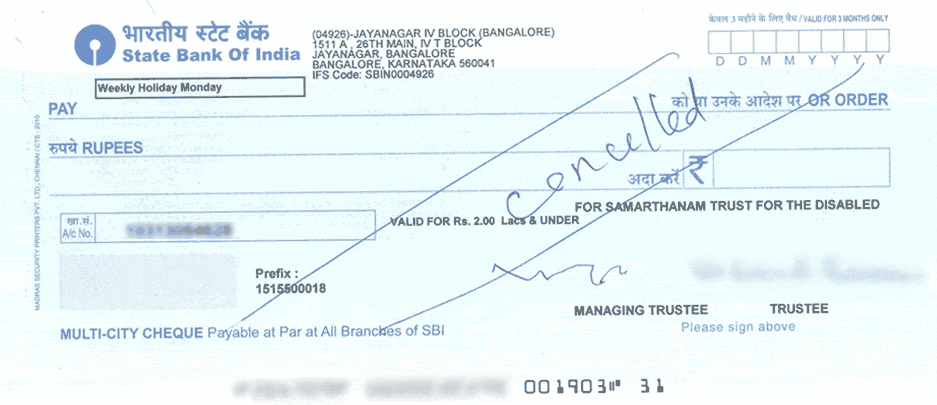 Once all the images are shared, the Return's Team at Tolexo will carefully validate and on confirmation will proceed to next step.
Preparing for Reverse Pickup
Once all the images are received and validated by the Return's Team, the return is initiated and you will receive a confirmation email from customer care team about reverse pickup. There are two modes of reverse pickup
Tolexo Reverse Pickup – Tolexo's associated courier partners will come and pick-up the product within 3-4
working days after the return is initiated.
Self-Ship – There are certain pincodes where the courier partners do delivery of the product but currently do not do reverse pick-up, hence customer has to self-ship the product. In such a scenario, customer care team will confirm and share the details about the same.
Repack all the products including accessories, freebies, etc., with the tags and original packaging intact.
Write the address of the seller or Tolexo warehouse on top of the product. You can find the address either in the invoice or the return initiation confirmation email.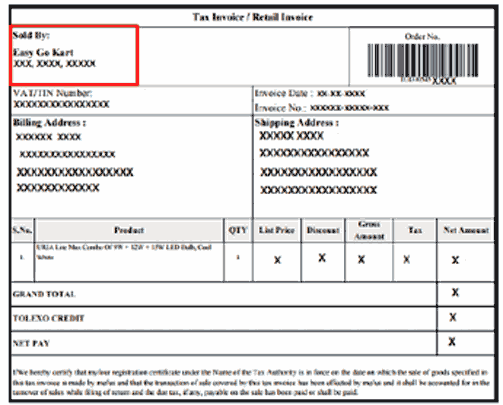 Return the shipment
Reverse pickup will be done within 3-4 working days from the delivered address.
Confirm the order id from the courier person while returning the packed and sealed shipment and collect the return receipt from courier
Post receiving the reverse pickup confirmation from Courier, refund is initiated. In case of self-ship, the refund is initiated post receiving the shipment. Retain the reverse pick-up slip in either cases.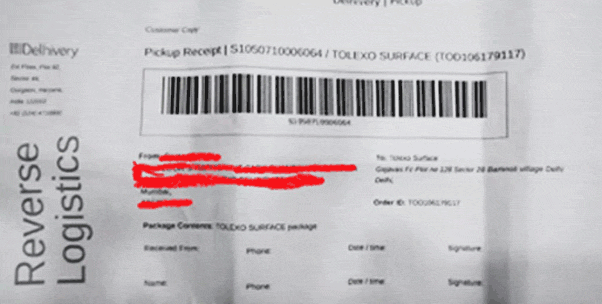 Once refund is initiated, the amount will reflect in the given bank account within 7-10 working days.
Returns And Replacement
Damaged Products

Defective Faulty Product

Wrong Product

Size Mismatch

Missing
Accessories / items

Change of Mind
CANCELLATION AND RETURN POLICY
100% MoneyBack if issue not resolved in maximum 30 days via same mode.
Tolexo allows return of products for 3 days from delivery in all the following cases:
Product is used/worn or altered
Physical damage to the box or to the product
If sealed package of branded products is open
The packet was empty / some item or accessory was missing
The product was defective,
Significantly different from the description given by the merchant (wrong size, colour, quality or material related issues)
You changed your mind due to any other reason
Apart from the initial period, Tolexo still allows returns for upto 15 days from delivery in the following cases:
The product was defective,
Significantly different from the description given by the merchant (wrong size, colour, quality or material related issues)
You changed your mind due to any other reason
After the initial period though, the following conditions must be satisfied:
Product must be in its original condition
Only unused, unaltered, unsoiled products will be accepted
Brand packaging should be intact
Replacements will be made if product is available on website